Plastic To Fuel
Our very own Health Analyst Lovedale Hakuyu and his Project Partner Joshua Tila, we are so proud of you!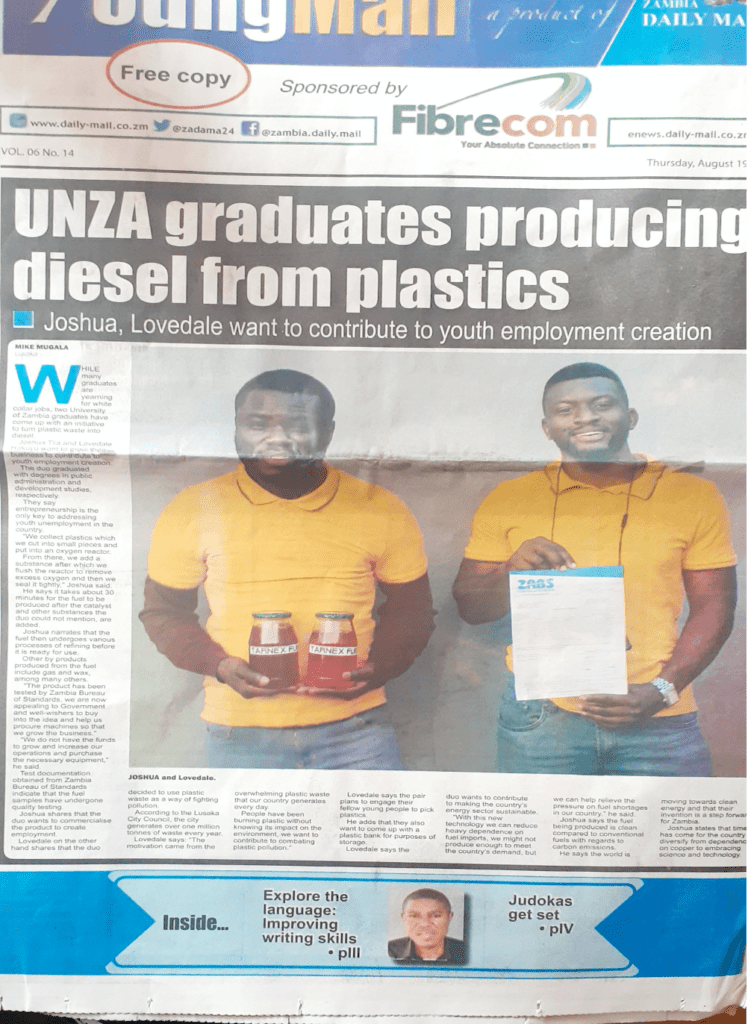 Tarnex Recycling Limited, a private company dedicated to the effective management of plastic waste and promotion of environmental conservation. 'Tarnex' turns plastic waste to clean fuel. We specialize at creating synthetic crude oil, that can then be tailored to fit the demand of the customer. Tarnex Recycling Limited can manipulate this crude into diesel, jet fuel, and in the long run – 15w-40 oil (engine oil). Our clients benefit from a modified product tailored to meet their preference. Our quality of service and dedication of directors will ensure that our customer retention rate is on its highest among the Factories and Mines that operate the heavy combustion machinery for which it is recommended for.
Lovedale Hakuyu and Joshua Tila, two graduates from the University of Zambia, are the holders of this vision. Tarnex Recycling Limited was registered in 2019 and is located in Lusaka, Zambia.
Even with domestic and international developments to constitute control of plastic waste, efforts are limited given that plastic has unique capabilities that other materials do not. For instance, food preservation. With billions of tons of plastics waste globally occupying land space and over 8 million tons winding up in oceans each year, plastic is a global concern beyond litter unto climate change.
Our solution is to give this waste plastic a second life by converting it into clean energy with synthetic properties.
Tarnex Recycling has since then carried focused group experiments and in the course developed a catalyst that changes the properties of the oil making in a lot more resistant to oil breakdown. Tarnex Oil lasts longer.
We encourage a culture of innovation and incorporating technology to solving today's waste problems. Charging into the market with a client focused approach, we will sincerely keep seeking ways to improve our products exceeding client expectations.
Our key metrics are environmental impact, measure of recyclables, recycling finances, and product quality. Our fuel is cleaner than conventional fuel, and it comes as a bonus from ridding our communities of filthy plastic debris traveling across our communities. We believe this enterprise will greatly benefit the youths of our country by providing a platform to give dignity to the skills acquired at tertiary level education and practice the crafts.
"Avencion provided a platform for me to grow quality leadership skills and really investigate a problem from its root cause. This makes problem solving pragmatic. With this project, we can extend such a platform to many unemployed youths in our country, and allow them to give dignity to the skills the acquired at tertiary level", Lovedale Hakuyu (Avencion Health Analyst/Project Partner)."This project has the capacity to create numerous green jobs. With support, we can not only sort out the waste problem or fuel issues we experience but also contribute to climate action by supplying a cleaner fuel,…clean energy", Joshua Tila (Project Partner)
For further information, Tarnex Recycling Limited invites you to contact ta************@gm***.com WhatsApp +260 97 643 10 53/ +260 97 584 61 65
Written By:
Lovedale Hakuyu
AVENCION