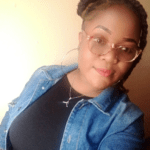 This is Yvonne Chabu Nsabika, aged 25, she is a Senior Health Analyst and Sub-district Coordinator for Monze District.  She is a holder of a Bachelor's Degree in Public Administration and Development Studies from the University of Zambia and was successfully admitted to the Avencion Health Analyst Program in February 2021. Upon being admitted into the program, Yvonne recalls the day she was called and offered the opportunity to join the program very vividly because that day happened to be her birthday and she had just asked God to help her help other people in society and be a blessing to others, to her it was a miracle on 21st Street because through this program she is able to help others in the society living with the HIV virus live a long and happy life.
Facility testimonial: Clinic-the Art in Charge for Mansa Central " Yvonne is serious, committed and hardworking, she does not divert into doing other things while on duty, she has passion for the work she does and is very kind towards the people she serves and puts in her best. She is exceptional."

Mr Moonga
After working for one month as a Health Analyst she was promoted to champion Mansa Central Clinic in Lupula Province, and a month later she was given opportunity to serve as Customer Care Champion for Luapula, where she took up the role of being a leader. As a leader she learnt how to work even harder than before and learnt that actions inspire others to dream more, do more and become more, she also used this role to learn the strengths and weaknesses of her team members and used this knowledge to help each team member in areas they lagged behind and also got help whenever she needed to and this, in turn, made her team stronger and more efficient with time.
She has most currently been entrusted with bigger responsibilities of managing the entire district as a senior health analyst in Southern province which comprises three health facilities. She sees this as an opportunity to continue learning new and advanced skills and a platform to sharpen her administrative and monitoring and evaluation skills which has been her goal since she started the program.
Yvonne– "It's amazing how people can change when in the right environment, I found a family in Avencion, the retention program was the right environment to help me realise my full potential and taught me how we all need each other in life, each person is important in their capacity – Teamwork truly makes the dream work ."